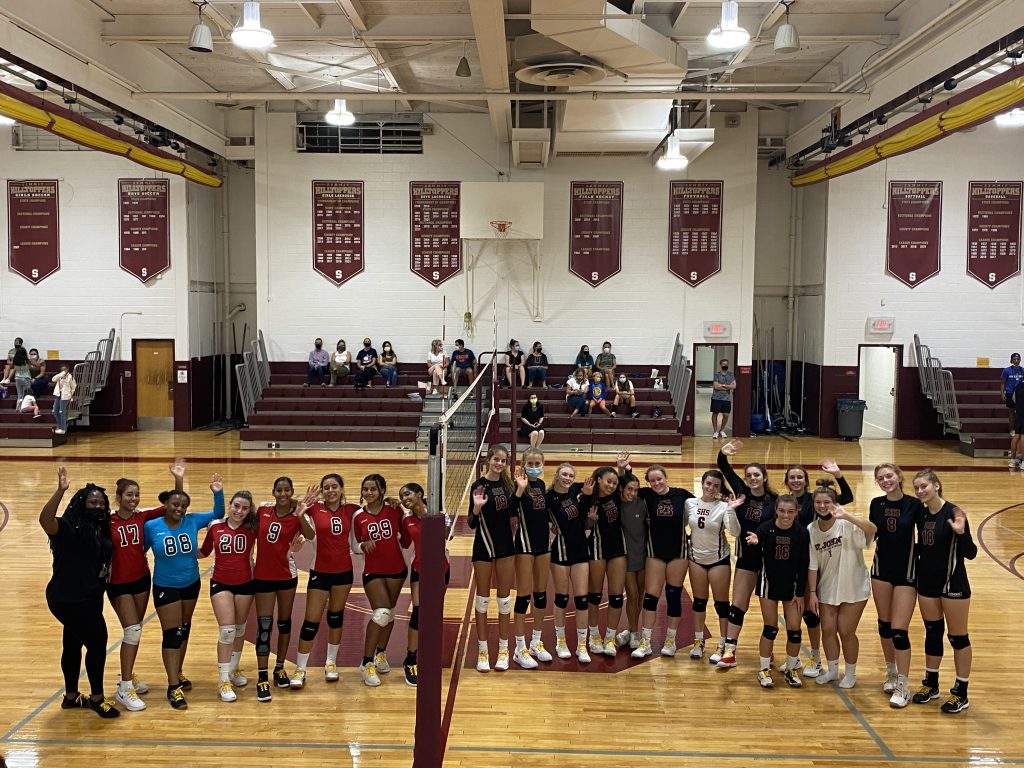 The Summit Lady Hilltoppers took on Rahway as the feature match-up of the day in the Go4theGoal event at SHS. The Hilltoppers entered the match versus the Rahway Indians very confident in what they had been able to do for the past week. Summit out-dueled Cranford, was dominant over ALJ and were the stronger team late against Linden, the then division #2, to go on a 3-0 run in a week. The squad was confident that 4 wins was realistic and reachable against the Rahway squad. But, as with any match in any sporting event, the games are not played on paper and teams and individuals still have to execute to win. In set one, the result was more of a case of the Hilltoppers not executing the serve. In set 2, Rahway executed all phases brilliantly while SHS could not pass well enough to match the Indian service game. Result, a 2-0 loss that saw the Hilltoppers out-kill Rahway 17-13 but Summit created a combined 14 serving and fault errors compared to Rahway's 6, in essence, the difference in the match. SHS passed at a mere 1.48 thanks to a 1.09 set 2 number while Rahway reached a 1.79 for the match.
The first two plays of set one was a service error and a net touch call from the Hilltoppers that became the theme of the set for the home side. SHS got kills from Zoe Zacharias and Julia Nardino to knot the set at 2 and that offensive production was also a staple of the set and match for the Top. Rahway saw themselves, perhaps unexpectedly, ahead 6-3 early but Vivian Roberts hit for 2 kills and added a block and Hope Basaman continued her ace game along with a Nardino which had the Hilltoppers back up by 1 at 8-7. This started to feel like a turnaround but the SHS squad followed that up with a series of hitting and serving errors that prevented the team from going on a dominant run despite the multiple free ball opportunities and had a mere 1 point lead at 13-12. At this point of the set, critical plays define the outcome and Summit looked like they had found that moment.
A hitting error by the Indians opened the door and Roberts burst through it with 2 kills and the Top looked like they were starting to gain full control up by 4 at 16-12. But a service error followed which triggered a hitting error and a net touch fault call that saw that lead evaporate. Yet again Roberts asserted herself and another kill got the ball back with the lead yet again but that was short lived and, despite kills by Nardino and Roberts, Summit was staring at a 20-20 score line by rotation 7. A tough back row attack call, a Rahway ace and kill had the Hilltoppers up against the wall down 23-20. The Indians opened the door for a comeback with a service error and Sarah Noa took advantage with an ace but the Top lost the serve again with a miss and, despite a must have, set saving kill by Basaman, the team missed its serve on set point and set one went to Rahway, 25-23.
Summit out-killed the Rahway squad 11-5, tied in blocks 1-1 and out-aced them 3-2 for a 15-8 score but, as the first 2 points of the set foreshadowed, SHS had 6 hitting errors, 7 serving errors and 4 faults called, giving the Indians 17 points while Rahway notched only 8 error points.
Summit might have proven they were the more offensive team but it had also played right into Rahway's game plan of keeping balls alive long enough to have Summit commit an error and look to get key kills and aces at key moments. The task was simple for the Hilltoppers. Could the team rally?
Ally Lipshitz and Aya Laws were inserted into set 2 in order to spark the squad and find some serving consistency but the start of the set was once again an auspicious one. A hitting error started it off after a perfect pass by Thea Rind that led to an Alison Wauters swing that was brilliantly dug by Rahway. Rind thwarted the subsequent Indian attack but a hitting error by SHS followed and despite the defensive execution, Summit got no reward. An apparent Eva Oberhuber kill was over-ruled by the head ref and the Hilltoppers were down 2-0. The call affected the team as the squad quickly felt like things were going against them and the Top followed up with a receive error and a free ball return error to stare at a 4-0 deficit. The next few rotations were not much better for SHS and the only thing that seemed to help their cause was 2 consecutive service errors. Despite that, Summit still trailed 7-2. The team then looked for Roberts for some stability and she provided it with a tip kill into the block and the Maroon and White found themselves within striking distance at 4-7 but it was clear that the passing was not where it needed to be at this point, a concern that became a worry as the set moved along.
Rahway then tallied 6 of the next 7 points off 2 Rahway kills, a Hilltopper service error and 3 consecutive aces off 2 Hilltoppers that saw the home team go from a 7-4 deficit to a 13-5 deficit in a matter of 5 minutes. SHS needed a spark and Nardino provided a brief flash with a kill which she followed up with an ace. Oberhuber blocked down an Indian offensive attempt and just like that, SHS had won 3 of 4 points. Could the comeback be starting?
Unfortunately, 2 serve reception errors, a blocking error and a Rahway kill later, Summit was staring at a ginormous hole trailing 18-8. Down 20-10, things looked almost inevitable but, yet again in the set, Nardino just kept producing the sparks that the home team hoped would turn into a comeback with a kill and a presence at the net that forced Rahway into 2 hitting errors which cut the lead to 20-13. Another SHS service error extinguished that run but Roberts hit for another kill to put the Hilltoppers in a position to see the light at the end of the tunnel, down 21-14. But the defense and passing that had struggled all 2nd set reared its head again and the Top had 2 dig errors and allowed another couple of aces which ended all hopes and led to a 25-14 upset win by Rahway.
Despite the loss, some silver linings ahead. Rebekah Thompson returns Monday against Oak Knoll which should get the Summit squad close to its starting serve receive rotations. Roberts continued her torrid attack numbers with another 7 kills (53.9 kill %) and a .385 hitting efficiency. But more hopeful was the emergence of Nardino on offense as she made the most of her opportunities with 5 kills on 11 attempts and no errors (45.5 kill% and .455 efficiency) and chipped in with a perfect 5/5 from the service line with 2 aces. Noa was a defensive factor with 12 digs and the pairing with Thompson come Monday should make the team stronger on receive and defense. Noa was also the team leader on serve receive going 15/16 safe passes, giving up only 1 ace, a team leading pass rating of 1.88 while also notching 6 perfect passes for a team leading 37.5% perfect pass.
TRENDS AND PERSPECTIVE:
Although Summit took the loss, the squad has rebounded nicely from its injuries and adjusted marvelously despite the numerous lineup changes the past 7 days (4 matches). Since the GL match, the team has gone 3W-1L. Basaman and Noa lead the team with 13 and 11 aces respectively and a 2.66 and 2.10 serve rating. Despite the tough serving game yesterday, the squad has served at a 2.09 rating with 38 aces and an ace % of 20.5.
On the receiving side, SHS lost 2 players that, before injuries, were #1 and #2 in pass rating (Barlow 2.27 and Thompson 2.00) with a combined 16/35 perfect pass on reception (45.7%) and only 1 ace allowed among the Hilltoppers. In their absence, the passing responsibility and load has shifted to Noa and Wauters who have managed nicely in their absence with a 1.82 pass rating with a 26/68 perfect pass on reception (42.2%), leading the squad to a 3-1 record.
Roberts has officially taken over the offensive load with 34 kills in 5 matches (6.80 kills/match) but the most impressive number is the .393 hitting efficiency and a 55.7% kill %.  In comparison, last season Roberts had 58 kills in 14 matches for a 4.14 kills per match number,  a 39.7 kill % and a .150 hitting efficiency.  
The team has hit for 77 kills (7.7 kills/set) with a kill % of 32.3% and an efficiency of .145. For comparison, last year's squad finished the season at a kill % of 32.3% and an efficiency of .153, averaging 8.5 kills/set.
Zacharias is currently averaging 7.4 assists/set and is ahead of pace of Kasey Walsh from last year's team who averaged 7.04.
Kiera Stocks averaged 3.73 digs/set and Noa has stepped in admirably as the Libero in Thompson's absence with 3.30 digs/set.
Summit takes on Oak Knoll on Monday @Oak Knoll at 4:30pm, Varsity first.
Summit follows up at home vs. New Providence on Wednesday and closes out the week on the road @Cranford 4pm for Varsity while the JV and 9th Graders play at home, also at 4pm.