It was a beautiful day for football at Summit's season opener – 70s and sunny at kickoff. There was a solid turnout, including a beach-themed student section.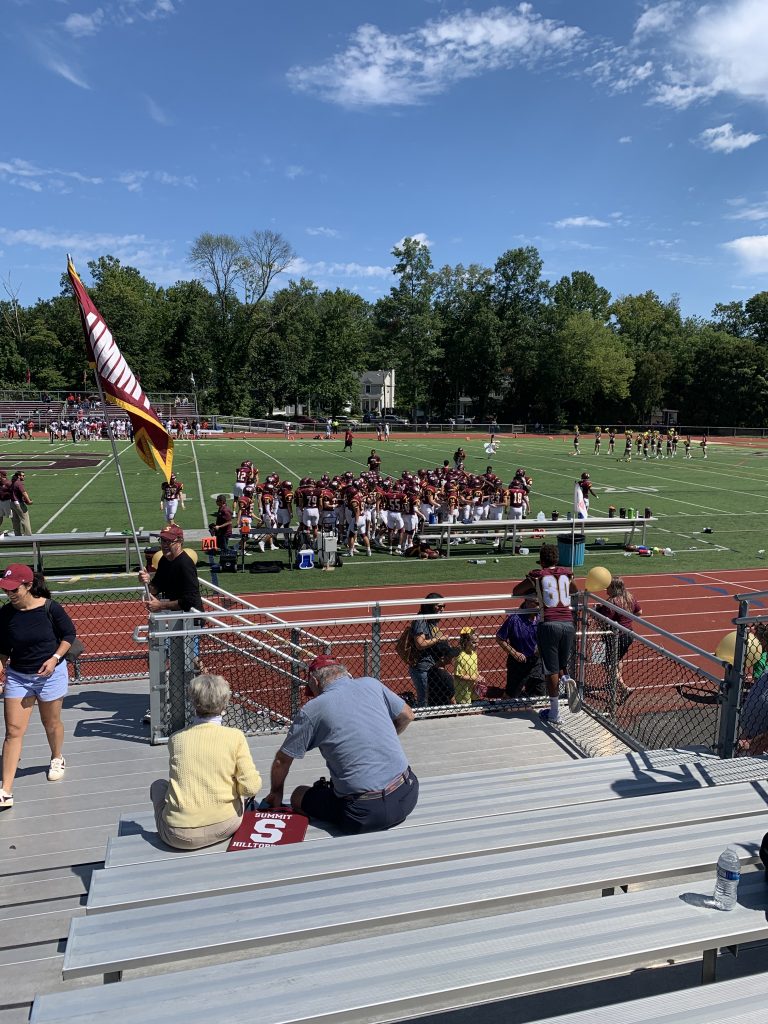 Summit got on the scoreboard midway through the first. From behind the chains, Charlie Schaffer turned a broken play into a long passing TD to Conor St Amant.
Elizabeth answered with a rushing TD early in the second. Summit punted out of their own end zone, creating a short field.
After some tough defense on both sides, Summit broke the game open with a 90 yard catch and run from Schaffer to Gavin Odell.
Summit had chances to add to the total before halftime. First, a recovered onside kick followed by a three and out. Later, a long run by Schaffer to deep in Elizabeth territory, called back for a penalty. Summit entered halftime leading 13-6.
Summit started to pull away in the third, aided by some Elizabeth snap miscues. A snap over the QBs head put Elizabeth way behind the chains, creating a short field for Summit. The Hilltoppers quickly ate up the remaining yardage with a long pass from Schaffer to Odell to the Elizabeth 2 yard line. Matthew Loeloff punched it in on the next play.
On the next drive, another long snap was recovered by Summit inside the Elizabeth 20. Summits offense was pushed back, resulting in 40+ yard FG attempt. Will Johnson had just enough leg, as the ball bounced off the crossbar and through. Summit leads 24-6.
Next, another big play by the Summit defense: Taylor Christ beat his man off the edge and strip sacked the Elizabeth QB, giving the offense the ball back around the Elizabeth 30. Summit converted the field position to points on the next play with a 33 yard passing TD from Schaffer to St Amant. Summit leads 32-6.
Elizabeth seemed poised to score on a 45 yard run by their QB to the Summit 5. But Summits defense stood tall at the goalline, returning the ball to the offense on downs.
About midway through the 4th, Elizabeth went for it on 4th down deep in their own territory. This gave Summit great field position, resulting in a 23 yard TD run by Colin Beatty. Summit leads 39-6.
Elizabeth ended their scoring drought late in the 4th, with a 10 yard TD pass with 0:23 remaining.
Final – Summit 39 – Elizabeth 12. A great start to the season for the Hilltoppers!
Full stats: https://highschoolsports.nj.com/game/674584
Article by Mike Kinney: https://www.nj.com/highschoolsports/2021/09/summit-displays-strong-pass-game-behind-schaffer-against-shorthanded-elizabeth.html
Article by Greg Elliott:
https://www.tapinto.net/towns/summit/sections/sports/articles/summit-h-s-football-opens-season-with-victory-over-elizabeth-39-12