Interested in contributing? Thank you! The most valuable contributions are reports from parents / students / fans who attend games!
Reach out to todd.branchflower@gmail.com and let me know what sport you'll be reporting on! I'll create an account, which will let you login at summitsports.org/wp-login.php. That's all you need to start contributing.
Writing Your First Post
Navigate to summitsports.org/wp-login.php. You'll see a page that looks like this: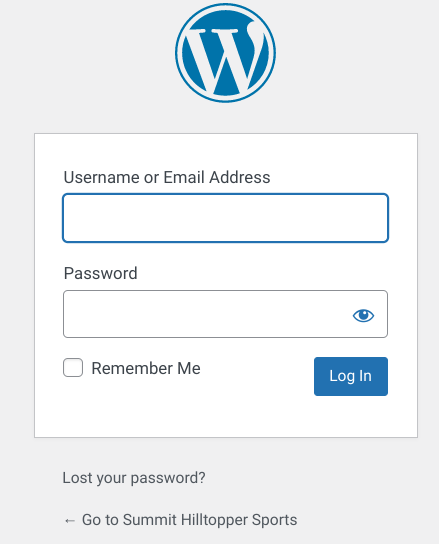 Once you login, you'll see a dashboard. On the left side, there's a menu: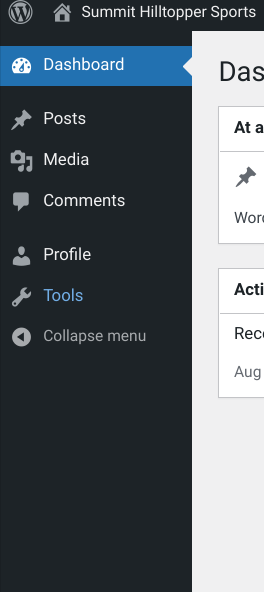 Click "Posts", then "Add New". This will open the WordPress Block Editor. I found the block editor to be pretty approachable and learnable by exploring / experimenting. If you want a more guided walk-through, consider this tutorial.
Adding Images
The easiest way is probably to copy the image and paste it into the post.
For more flexibility, use the "block inserter" – the "+" button at the top-left: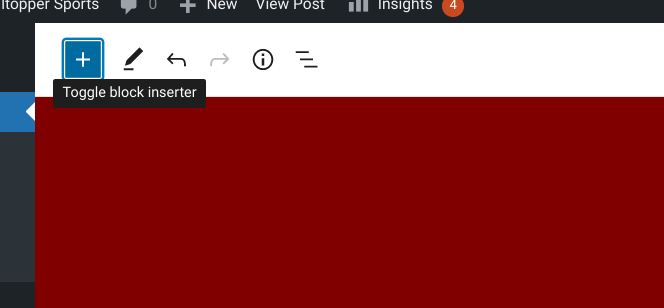 Then find the image block: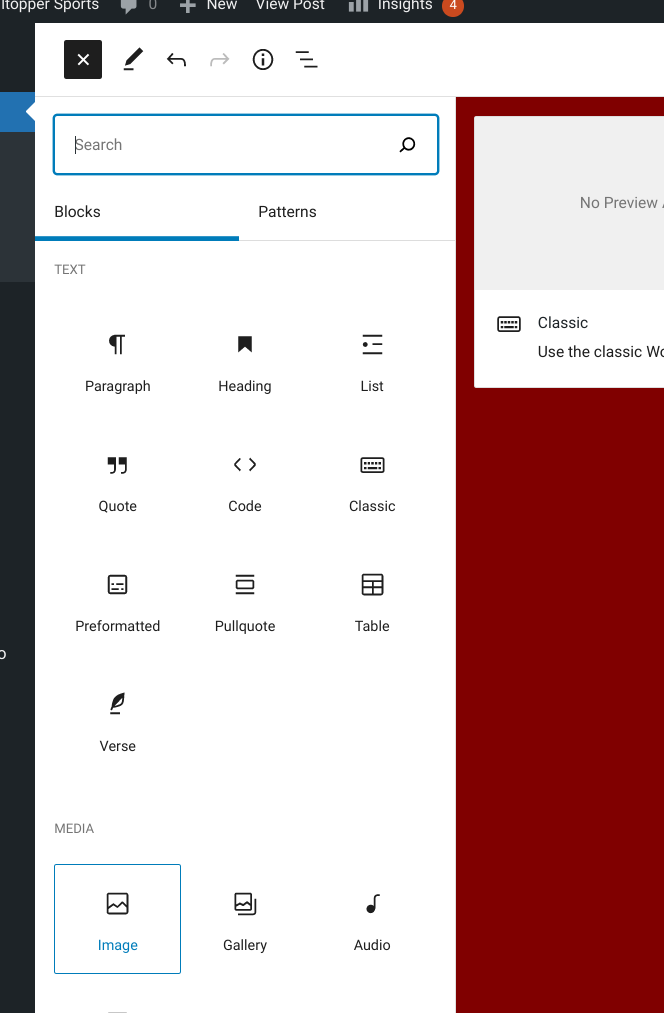 Once you click that, you can drag it anywhere in your post and have more options: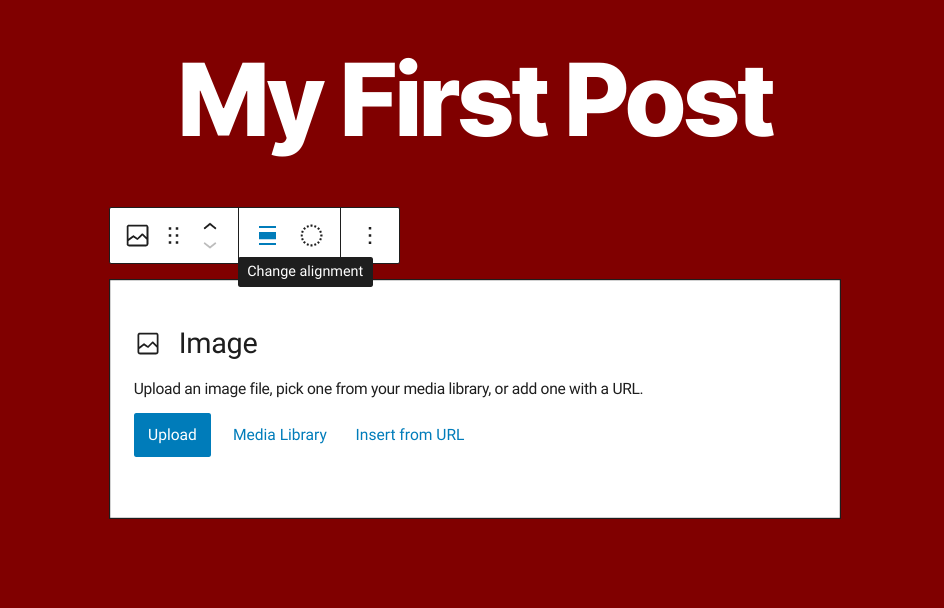 Before You Post
Ensure you've added the category for the relevant sport to your post: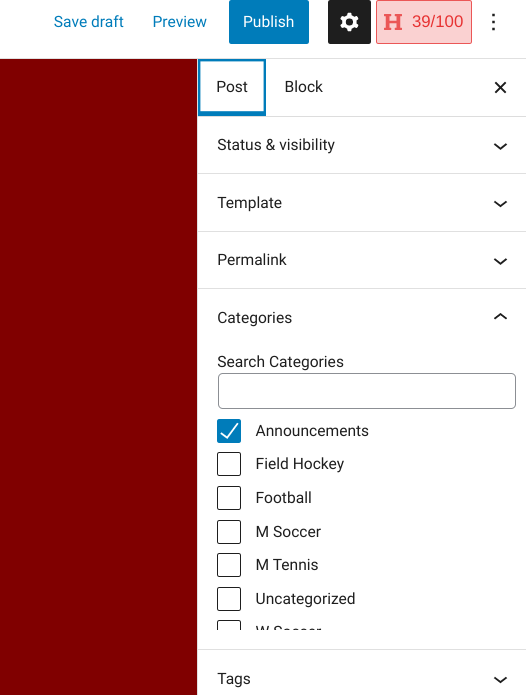 Add the tag for the calendar year (currently, 2021-2022)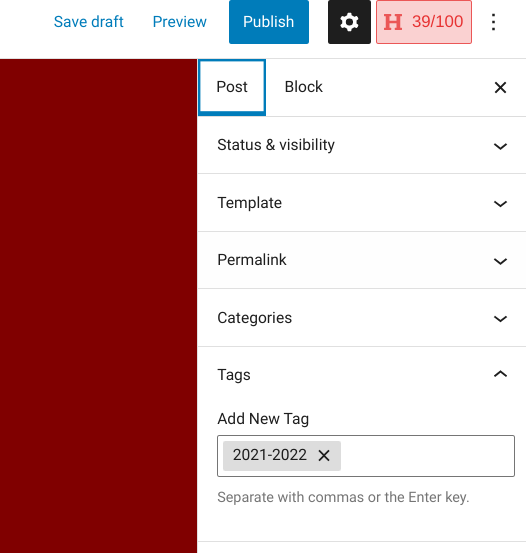 When your post is ready for the site, click the "Publish" button at the top right!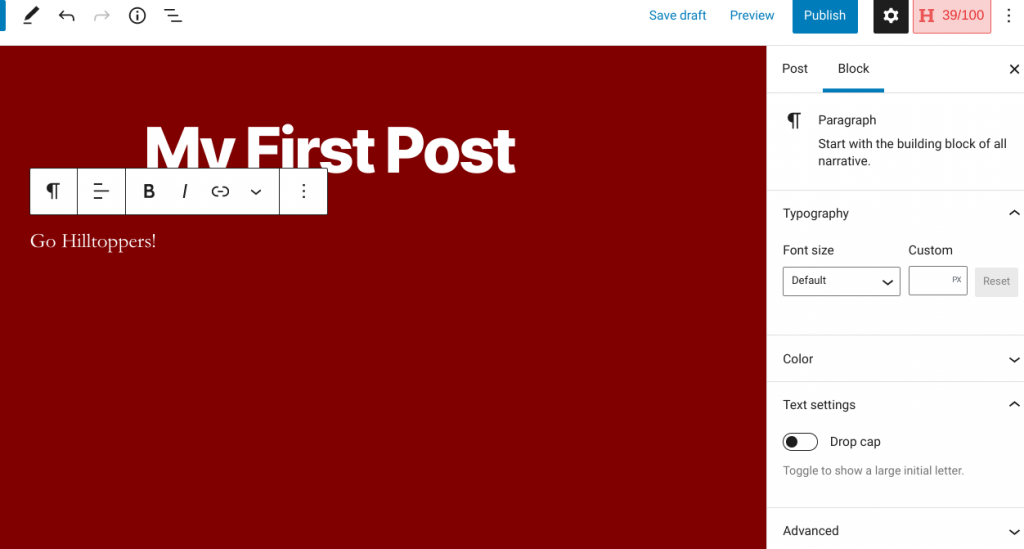 After posting, you should see it on the site immediately!
Content Guidelines
Be objective and avoid negative focus on individuals or coaches. An example from the archives:
For the first three quarters Summit struggled against a strong Parsippany Hills zone defense. Good shots were tough to come by and even when Summit got one it didn't go down.

https://summitsports.org/archives/shs07-08/MBasketball/Parsippany%20Hills111.html
Positive focus is great! From the same writeup, when things turned Summit's way:
Chris Kehoe answered the FG and then began a great string of 3 point shooting. Kendall Baker drained a trey, Kehoe scored and Baker added another 3 pointer to pull with in 1 point. Par Hills scored and but Baker scored again from behind the 3 point line. Now the score was tied and the student body at the far end of the gym were really into the game. After Par Hills regained the lead with a field Goal, Jordan Healey came to the rescue with two more 3s and suddenly Summit was on top 45-41 with only 2 minutes left.

https://summitsports.org/archives/shs07-08/MBasketball/Parsippany%20Hills111.html
Coaches are generally required to report statistics to nj.com, so I don't plan to include them in my reporting – just a link to the stats! But feel free to include them if you'd like!
Feel free to post other types of content (i.e. images) as well!
Suggestions / Additions
Please email todd.branchflower@gmail.com and I'll happily add to this!