Summit traveled to Cranford's Memorial Field to take on the unbeaten Cougars under the lights. Despite the occasional light drizzle, it was great early fall weather for football. Cranford's student section was neon-themed and boisterous all night.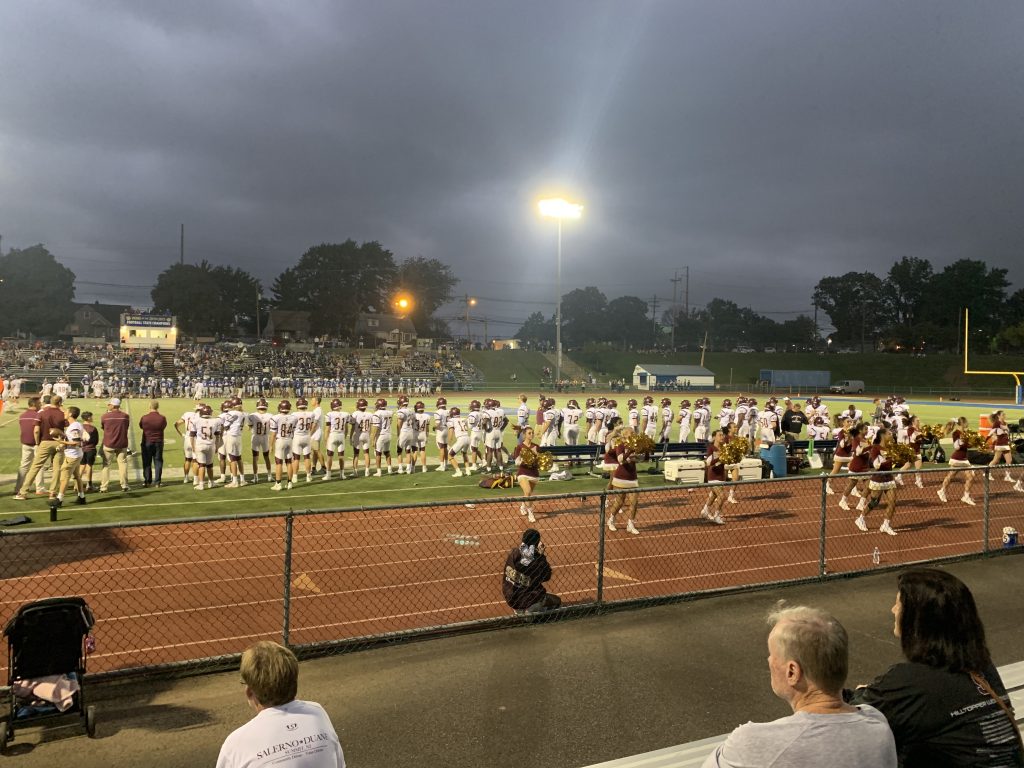 After holding the Hilltoppers to an opening drive 3-and-out, Cranford struck quickly to make the count 7-0. Late in the first quarter, Cranford drove deep into Summit territory. The Hilltopper defense stood tall at their own 10 and forced a Cranford FG, ending the first quarter 10-0.
Summit seemed poised to strike back after a kickoff return to midfield followed by a long run. But the drive stalled around the Cranford 20 and the FG unit was unable to convert the field position to points.
The two teams traded turnovers. First, a Cranford fumble gave Summit the ball back at their own 25. Aided by the tailwinds of numerous Cranford penalties, Summit marched down the field but gave the ball back on an interception at the Cranford 31.
This is where the game got away from the Hilltoppers. Cranford converted the turnover to points on a couple of long plays, punching it in on a run with 3:22 remaining in the half. 17-0. A quick interception on Summit's next drive gave Cranford the ball back at the Summit 33. Two long runs and the Cougars punched it in again – 24-0 with 2:05. The Hilltoppers had trouble handling the ensuing kickoff, which pinned the offense at their own 3. Punting out of their own endzone, Summit returned the ball to Cranford at their own 30 with 0:48 remaining. Cranford needed only 14 seconds to capitalize, taking a long throw to the house to make it 31-0 at the half.
All told, 21 Cranford points in around 3 minutes.
The Hilltoppers regrouped and held Cranford to a 3-and-out on the opening possession of the second half. A muffed snap on the punt gave Summit the ball at the Cranford 1. Charlie Schaffer put the Hilltoppers on the board with a designed QB run. Ellis Sorensen scored the 2pt conversion, brining the count to 31-8.
For a moment, Summit had some momentum – but Cranford answered with a score on the next possession, 38-8.
Turnovers continued to plague the Hilltoppers. An interception on the next drive gave Cranford 1st and goal. However, the Summit defense mounted a goalline stand that returned the ball to the offense on downs.
Another interception once again gave Cranford the ball in Summit territory. This time, the Cougars were able to convert to points – 45-8.
The Hilltoppers return home next Saturday at 1pm, looking to regroup against South Plainfiled.
Stats: https://highschoolsports.nj.com/game/674665
Went to the game? Want to contribute? Check out our contributor guide and get in touch!