The 2021-2022 season tipped off at home, with Summit hosting the Hillside Comets in front of a packed – and masked – home crowd.
Both teams struggled to generate offense in the early going – neither team scored a point until halfway through the first. Summit didn't get on the board until freshman Myles Blackley sank a free throw with 1:43 remaining. Summit had no answer for Hillside's 2-3 zone and only scored a single FG, ending the 1st down 10-3.
The 2nd quarter was more of the same – Summit couldn't find any offense until halfway through the frame. A Wesley Hellings score brought the score to 14-5. Greco brought some great energy, grinding out tough offsensive rebounds – but Hillside continued to extend their lead. The Hilltoppers didn't score again until a Blackley 3 with about a minute left. Summit ended the half in a deep hole, down 24-8.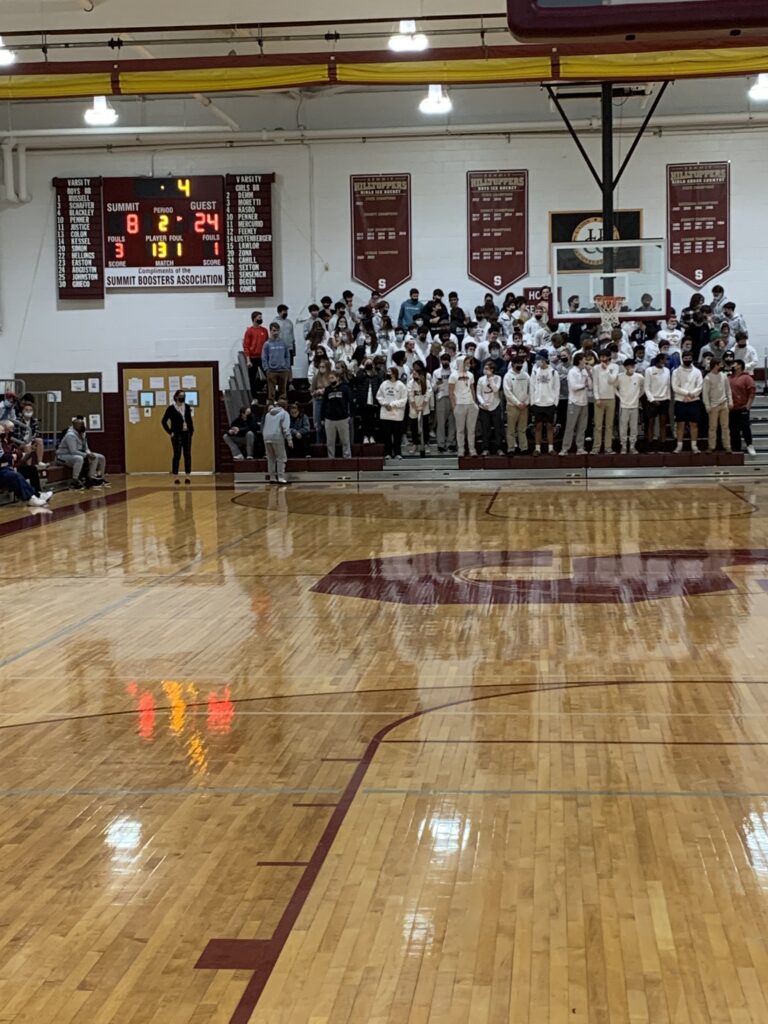 Summit got going quicker in the 3rd with a 3 by Easton on the first possession. Another bucket midway through the third brought the margin to 28-13 and head coach Tim Simo was fired up, bringing some energy to the Hilltopper bench. A 3 by Brett Colon and a great diving hustle play by #2 showed that the home team still had some fight. The 3rd quarter closed with the Comets leading 30-16, but the Hilltoppers won the frame 8-6 and momentum was shifting.
In the 4th, Summit began to chip away at the 14 point Comet lead. 3s by Greco and Hellings brought the margin to 11 with 4 minutes to play.
The Comets traveled with just 6 players and didn't substitute once. For the bulk of the game, it didn't seem like it would matter – the refs called a loose game and nobody was in foul trouble. But late in the 4th, the short bench seemed to catch up with them.
A tech on Hillside started the Summit rally with 2:56 remaining – the ensuing free throws made it 33-24. A fast break score followed by another off of a steal brought the lead down to 5 with 1:03 remaining. At this point, the Hilltoppers smelled blood in the water and brought full court pressure. Another steal! Hellings is fouled on the ensuing break attempting a 3 and makes them all – 33-31 with 47 seconds left.
The Comets threw the ball away on a full court pass on their next possession, giving the Hilltoppers the ball with 40 seconds left. Summit patiently worked it around for about 30 seconds.
Final seconds captured: https://twitter.com/adsummitnj/status/1472020331607044096?s=10
Off the inbound, Hellings drove through the center of the lane and kicked it straight back to Colon who put up a 3 that drops through the net at the buzzer! Students pour onto the court. Final score – 34-33.