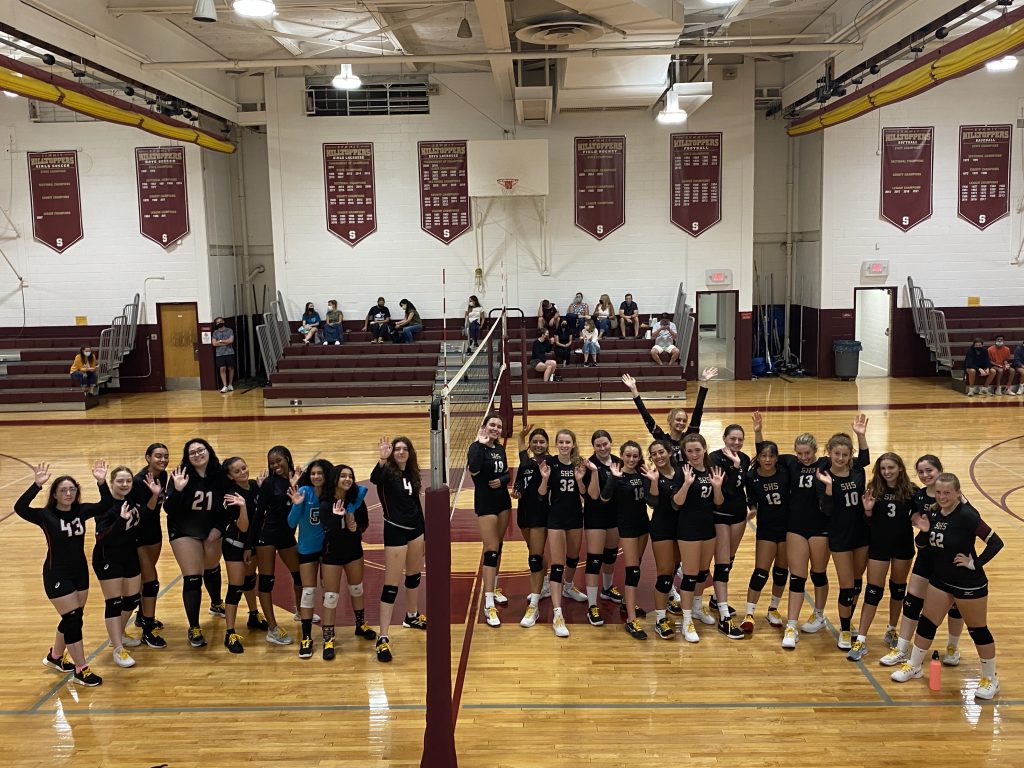 Friday the 17th saw the Hilltoppers take on Rahway on the JV and Varsity level and Bridgewater-Raritan on the 9th grade level as part of their Go4TheGoal event to help make the lives of kids and families affected by pediatric cancer. All teams donned gold laces in commemoration of the event and it a great afternoon for Volleyball!
The JV Hilltoppers took on the Rahway Indians in the opening match in the main gym of the Go4TheGoal event and expected that their service game would carry them to victory but the Rahway squad was able to stymie the Summit service game and SHS had to rely on their offense to earn the victory.
Abby Thompson began the first set on the serve, the first match back since her hand injury, and immediately put her imprint on her first game back with a 5 point service run to get the Hilltoppers off to a 6-1 start. Rahway ate into that lead and got within 2 at 7-5 but Emily Demm hit for a couple of aces and got the Top another couple of points to extend the lead to what seemed to be a very comfortable 12-5 score. The set came to somewhat of a stop as Rahway would not allow the Summit servers to score easily and the SHS offense found it difficult to get a ball down so the teams traded points over the next few rotations as the teams remained 6-7 points apart throughout the process, ending rotation 6 with Summit up 17-11. SHS just could not find a run to finish off the Indians and the Rahway squad just did not seem to have the answers to solve the Summit defense so, with the score 21-16 SHS, Stella Yarden stepped up and took the control of the set and finished off the Rahway team with a 3-0 run (1 ace) to close out set 1 25-16.
Set 2 was unexpectedly tight as the Summit squad began to experience a higher number of service errors and more of an offensive threat from the Indians. The result, a 13-11 deficit for the Hilltoppers through 6 rotations. Elizabeth Walsh got the SHS crew even with a key service point in rotation 8 which seemed to get the Maroon and White going as the team proceeded to win 6 of the next 8 points as Demm again ran off a 3 point service rotation to have the Top up 22-17 late in the set. But Rahway would not give in and the Indians ran off a 3 point run of their own to get within 2, forcing Coach Ross to call a time-out. Despite a service break by the SHS squad, Rahway broke right back and had a chance to close the 23-21 gap they faced. But a missed serve gave Summit a reprieve and the Hilltoppers closed it out with Yarden again one serve later.
Final score 25-21, Record 4W-1L