The Hilltopper Girls Swim Team won the Sectional Semifinal on Monday against Princeton and move closer to the Sectional Title today as they take on Scotch Plains at Raritan Bay YMCA.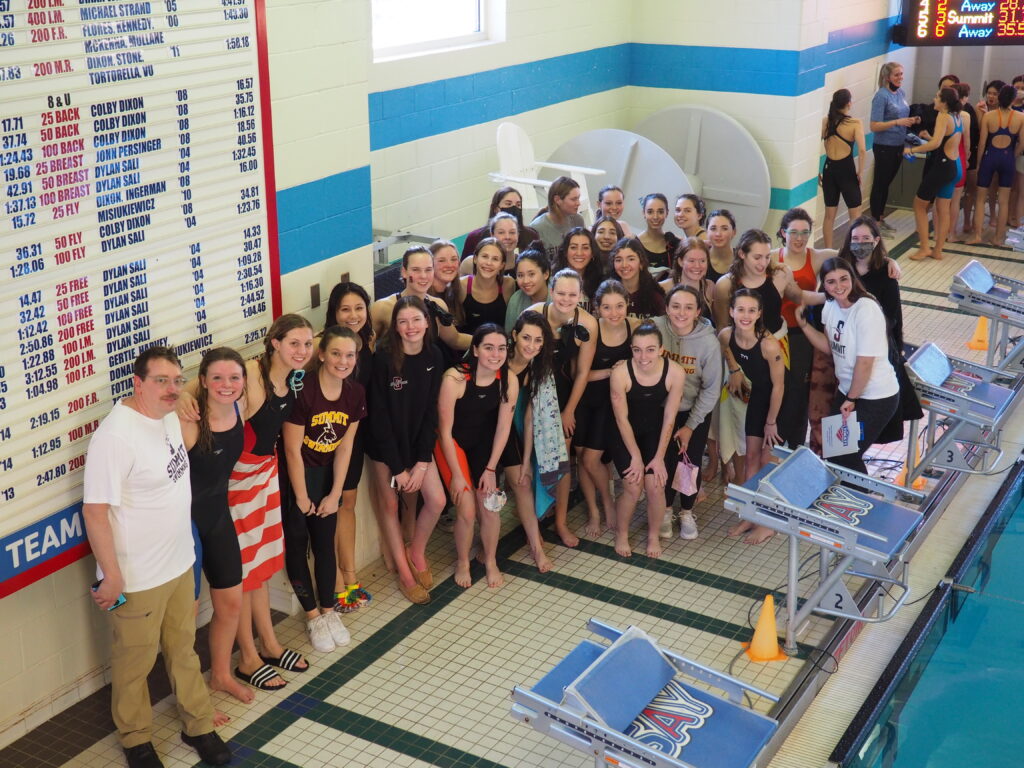 All of the swimmers contributed to the win especially Senior Captain Caitlin Fagan who flew past the competition in the 100 fly with a record-breaking performance of 56.89.

The meet began with the 200 Medley Relay with Summit taking second with help from Junior Cecelia Webb blazing to the finish with a sub 25 split in the 50 free anchoring the last leg of the race.

Summit then swept the 200 free with Senior Captain Dagny Donaldson, sophomore Grace Collins and Junior Lauren Sexton taking first, second and third with Sexton posting a personal best of 2:03.71.

In the 200 IM it was a close race for second but Junior Natalie Dripchak touched out Princeton and posted a best time of 2:13.40. Freshman Juliet Ho took fifth with a best time of 2:16.97.

The 50 free was an exciting matchup with Summit's Freshman Sidney Arcella, Webb and Senior Katrina Vianello taking second, third and fourth.

On top of Fagan's win and record in the 100 fly, Sophomore Bridget Devaney turned in a best time of 1:09.64.

In the 100 free, Arcella coasted to a win followed by Sophomore Molly Fagan and Webb in third and fourth places.

Summit continued to stack up points against Princeton in the 500 freestyle as Donaldson, Collins and Sexton took first, third and fourth. Molly Fagan took first place in the 100 back followed by Seniors Maddie Demm and Sophie Wiszniewski with Wisniewski shattering her best time with a 1:03.48.

In the 100 Breast, Dripchak, Ho and Freshman Emily Hickey added more points to the scoreboard taking third, fourth and sixth.

The Hilltoppers needed to win the final relay to beat Princeton and they came through with a big win from the undefeated squad of Donaldson, the Fagan sisters and Arcella. In the other relay, Freshman Juliet Webb led the first leg of 100 free with a best time and sub 1 minute performance.

The final score saw the Hilltoppers win 92-78.