The Hilltoppers traveled to New Providence looking to build off the momentum from their thrilling come-from-behind win in the season opener. The team was also looking for a measure of revenge, having dropped both matchups to the Pioneers in the 2020-2021 campaign.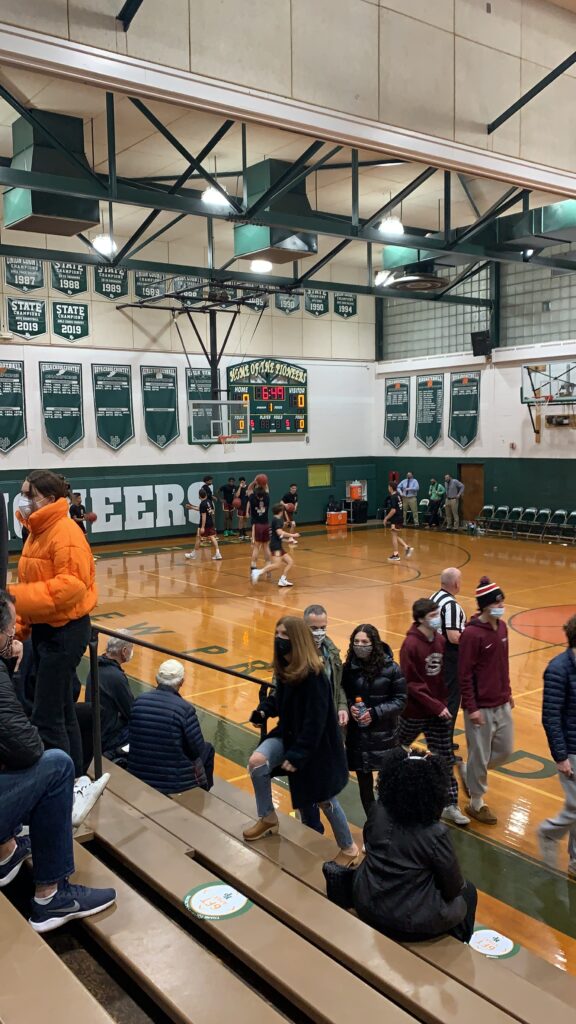 The Pioneers jumped all over Summit from the opening tip. Full court pressure caused 4 turnovers within the first two minutes. Combined with hot outside shooting, New Providence built an 11-0 lead before Coach Simo called a timeout to regroup.
Summit battled back. Myles Blackley scored first with a nice backdoor cut and contested finish. Imevar Justice brought energy off the bench, grinding out some tough rebounds and adding a driving score to cut the margin to 11-4.
Using a trapping 1-3-1, the Pioneers stifled the Hilltopper run and extended their lead to 19-9 by the end of the 1st.
The Pioneer zone defense gave Summit trouble all night, particularly early in the 2nd. After a Brett Colon 3 cut the margin to 23-13, New Providence went on a 7-0 run on the strength of two steals. Wes Hellings ended the run with a bucket, but not before the Hilltoppers were in a 16 point hole.
After a steal-and-score by Blackley to bring it to 30-16, Summit brought full-court pressure. New Providence wasn't fazed, nailing back-to-back 3s. Two buckets by Joaquin Russell followed by a Blackley 3 supplied some late offense for the Hilltoppers, but the Pioneers maintained a 19 point lead going into the half – 42-23.
New Providence opened the second half with an 11-2 run on a combination of steals and Summit missed shots. Summit battled back: a Blackley 3 followed by a Colon drive made it 53-30. The quarter ended with some back-and-forth, with Summit buckets by Hellings and Rhett Grieco. 59-34 after 3.
Despite the margin, the Hilltoppers weren't done fighting. Hellings opened the scoring with a tough contested shot followed by a Colon baseline jumper then a Blackley 3. Summit brought pressure – this time it was effective. A Pioneer turnover turned into Blackley free throws, making it 61-43. Another turnover became a Hellings baseline jumper assisted by Blackley. By the time New Providence called a timeout to collect themselves, the lead was cut by 9 to 61-45.
Following the timeout, the Pioneers reverted to the 1-3-1 zone that gave Summit fits all game. New Providence adapted to the Hilltopper pressure – breaking the full court press and converting to back-to-back layins. The run was thwarted. 67-47 final.
Blackley led Summit's scoring with 15 points, followed by Hellings and Colon each with 12. Full stats: https://highschoolsports.nj.com/game/697669
The Hilltoppers next game is against Millburn on Tuesday, 12/28 at home.